Therapy
Therapy is a safe space for you to talk about the things that are keeping you up at night. I work to create an environment that is comfortable and warm, without judgment, so you are free to unpack the thoughts, feelings, and circumstances that have been burdening you. Therapy can take place in my office in Claremont or online via video sessions (teletherapy).* You can talk about anything in therapy; including your current problems, events from your childhood or past, and any worries about the future. I have education and training to guide you to a better understanding and help you reach your goals.
Research shows that therapy is most effective when you are matched with a skilled therapist who you have a good rapport or relationship with. I work to build that trusting relationship with my clients and will refer you to other therapists in the area if we are not a good fit for each other. I have over a decade of experience providing psychological services for diverse clients.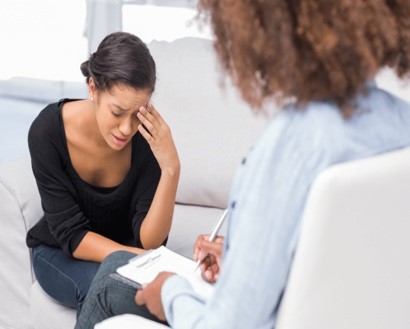 My Specialties Include:
Chronic medical illnesses (HIV/AIDS, diabetes,lupus , fibromyalgia, MS & others)
Chronic pain
Somatization
Depression
Anxiety
Panic Disorder
Post-traumatic stress disorder
Oppression (racism, sexism, etc.)
Self-esteem and Personal Growth
Moving from surviving to thriving
People of Color, Racial Minorities
Women
LGBTQ Affirming
Challenges around faith (spirituality and religious issues)
Relationship Difficulties
Services and Modalities:
Telehealth / Online Video Therapy
Mindfulness Meditation & Relaxation
Cognitive Behavioral Therapy
Motivational Interviewing
Solution Focused Therapy
Cognitive Processing Therapy
Biofeedback (Heart Rate Variability Biofeedback)
EMDR Therapy
Brainspotting (coming December 2020)
Health & Wellness Coaching (and Life Coaching)
Chair Yoga (Certified Chair/Senior Holy Yoga Instructor)
Day appointments available Wednesday through Friday
*Online sessions or teletherapy is not appropriate for individuals with high risk for suicide.